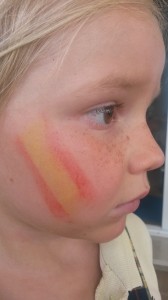 I know now why people say Brits drink a lot of tea.  I mean, it's nuts.  It's borderline insane.  It's like a sickness.  We're in the UK for a few weeks a year, and I would say a good percentage of that time is spent offering tea, talking about tea, considering a cup of tea, planning to drink tea, refusing tea, making tea, clearing away the teacups, offering another round of tea.  This is made all the more absurd by the fact that I don't actually drink tea.  This is irrelevant in the United Kingdom of Tea, where withholding the blessed beverage from visitors is tantamount to serious physical abuse.
Anyway once the tea is made and poured for one of a seemingly endless stream of (I should add) utterly cherished visitors, the next item on the agenda is the question: "So how are you finding Spain?"
I've had to answer questions like this quite a lot over the last seven years, as I have moved to three new countries in that time.  What's interesting is that I don't ever really know what the answer to the question is going to be until I am on the spot and hear whatever words appear out of my mouth.
And I definitely don't enthuse about Spain the way I did about Costa Rica.  I don't struggle for words to evoke the terrible beauty and sheer contrast the way I did with Tanzania.  Spain just isn't as different and wonderful and other worldly as either of those places.  But maybe that's why I actually quite like it.
Recently in the staff room I ran into one of the teachers who started at the same time as me and we both seemed to be in the mood for evaluation.  I asked him whether, with a year under his belt, he liked living here in Spain, and he simply answered:
"Well, it's hard not to, isn't it?"
And it is.  No matter how much you might try to resist it, who wouldn't like coming home to syrupy warm sun, views of mountains, moons rising in soft clear skies, a swimming pool?  Who wouldn't love to spend the evenings after work barbecuing on the terrace or relaxing with a beer on a sun lounger while the kids jump in and do widths?  WHAT ARE YOU GONNA DO?  You can't fight that.  For everything that sucks about it, the Costa del Sol does a pretty solid charm offensive on you on a daily basis, and it becomes pretty hard to resist.
It's tacky, and most of the people are either pretty weird or up to their necks in dodgy dealings or both.  The whole place is like an illustration of the shattered economy and the broken dreams of Brits abroad.  It's a ghost town in winter and heaving in summer.  Everyone lives in one of a long string of gated compounds connected by highway in a line along a polluted and built-up stretch of coast.
And yet.
The food is incredible, the drink is plentiful and cheap, and the lifestyle is great – everything happens outdoors and kids are active and appreciated.  The school is friendly and busy and, in a good way, old-fashioned.  Spanish people are warm and welcoming, especially to those who try out their smattering of halting, Latin-American-accented Spanish.  Spain as a country is huge and only lightly populated, meaning there are vast empty spaces, quiet villages, unspoilt sand dunes and beautiful snow-capped mountain ranges.
I mean, look, I miss Costa Rica.  I catch myself talking about it all the time, and I wish I didn't.  I know people find it boring and lame that I tell stories about it; I know this because I find it boring and lame when other people tell stories about the places they used to live.  'Be where you are now' is my motto, is the way I've always lived my life.  I don't want to become a whenwe.  But a side product of looking for the best in the place you live means that of course you fall in love with it, and as with anything you've fallen in love with you find it hard to leave behind.
You never forget your first love.  But all the same, one day you might find there are reasons he's not right for you, and you might find someone else who suits you better, who fits in with the things you want for yourself, for your life, for the bigger picture.
But that doesn't mean that part of you won't always be a little bit torn, a little bit conflicted.  That doesn't mean you can't cry when your current love's team crashes out in the first round of the World Cup and cry just as hard (but happy tears) when your first love's team exceeds everyone's expectations and gets into the quarter finals.
Personally, the more I learn about the places I have lived the more I love them.  Whether I could love any more places, I just couldn't say.  So for now I'll stay where I am.  This World Cup was busy and emotionally taxing enough for me without taking on any more loyalties.  Spain and I aren't married – at least, not yet – but I'll stick with him, for now.  I'll stick with him until at least 2018, when the next World Cup comes along.
And by then, who knows, it may be too late.