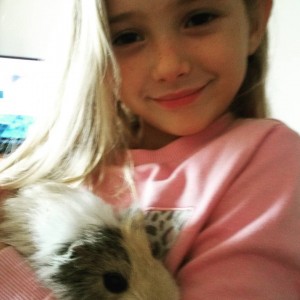 Dear N,
This year, for the first time, I'm writing to you with an apology. I admit I've been a totally substandard mother this year. Distracted, preoccupied, tired, checked out. More on the reasons for that later, but for now, let's talk about you, aged seven.
You're still beautiful, maybe more so than ever. And people still notice; people still talk about it all the time. Sometimes I wonder what you must make of this world where people feel the need to touch your hair, give you things, gaze at you, comment to you or me or each other about how breathtakingly gorgeous you are. We don't yet know whether you will carry the flag of epic beauty into adulthood and to be honest I'm not sure I would want you to. Seeing as it isn't something we have any say in, we'll just have to believe in your ability to play well with whatever hand you get dealt, and my faith in this increases every day, for a lot of reasons.
I mean, for a start, you are so intelligent. Sometimes it is actually scary how much you understand, how much of even the most adult conversation you pick up on (and recall at inconvenient moments). Half of this is to do with how clever you are, and half is because you are so perceptive and good at reading people and situations. You have a wisdom that is way beyond your years and I have already found myself asking your advice, which I know sounds a little bit nuts, but it's true.
You are fantastic at school and we are so proud of how well you do. You ace your homeworks, rack up housepoints, can read and write in two languages (working on a third!) and often get full marks in your tests. We only ask that you do your best, but I can't pretend we don't think it's fantastic that your best is so impressive. And on top of this you have a big circle of friends, you're a keen budding gymnast and for the second year running you are auditioning, undaunted by an unsuccessful attempt, for the school talent show.
You started reading this year, really reading, and since you started, you basically haven't stopped. And your avid bookishness extends to just about anything you can find. You've already read about ten or twelve chapter books as well as quite a range of nonfiction, covering topics as diverse as food, the human body and the Battle of Trafalgar among many others. One of the great side effects of this is that you are able to utilise a vast vocabulary and you have quite the selection of interesting facts at your fingertips with which to fill any lull in conversation. And fill the lulls you do, to the point at which we sometimes have to ask you to take a breath or just plain cork it. I hope you realize this doesn't mean we don't love talking to you (and listening to you), because we do, and when you're out with a friend we feel your absence keenly in every millisecond of silence that we know wouldn't have existed with you around. No discussion of your conversational skills would be complete without a word about your voice: deep, fruity, more suited to a forty year old woman than an elfin-faced, seven year old waif – this is just one of the many many contradictions that make you truly one of a kind.
Your bravery and fearlessness is one of the things I love most about you. Whether seeing you flying along on your bike, backflipping into the deep end of the pool or marching into a party and becoming the effortless centre of attention, I wish I had a fraction of the nerve you have. But sometimes the challenges you set for yourself are a bridge too far even for you. During the summer you insisted that we took a pedalo out (the kind that has a slide attached) and merrily threw yourself into the open ocean without even stopping to consider it. You do such a good job convincing everyone of your invincibility that we were as surprised as you when you took fright and started begging to be rescued. But I think it makes me admire you all the more now I know that you are not fearless after all: that, in fact, you do feel the fear, you do feel it, and yet you never let it stop you.
My princess, fan of makeup and dresses and party shoes; my girly girl who will happily leaf through fashion mags and play makeover games. And yet at the same time you are the girl who strips down to her pants to roll in the mud in the garden, who hates her hairbrush and having a shower and tidying her room, who chose to have her party at an aerial assault course when most of her friends favor the spa. Yes, you are all about contradictions and we will never tire of wondering how you will surprise us next.
So I'm sorry I've been so distracted this year. You know the reason – you've already started telling people that I've written a book – and it means so much to me that you're proud of me. But I know that you don't enjoy the fact that every time you talk to me I end up staring middle-distance, that when you want me to hang out on the weekends or evenings I lock myself in my room, that you have had to get used to sharing my lap with my computer, that I have been almost permanently exhausted after another 2am finish.
My only defence is that it's not been easy doing two jobs while also being your mum. You've suggested to me a couple of times that I just not write 'my stupid book', but I know you understand really. I'm not going to sit here and tell you that I did it all for you because that would be a cop-out. I did it for me – I did it because I've always wanted to, because I've always known that it was in there and I had to get it out, because I love it, because writing is like breathing for me and I just have to do it. I know there have been costs to you, and your sister and your dad, but I do believe it will be worth it in the end.
One day maybe you'll read my story, and you might even enjoy it. Like all the best stories, it starts with a girl. She's clever and funny and cool and tough, she's fiercely loyal, she works hard, she tries her best, she knows what she wants, she loves with all her heart, she's flawed and that's OK, she sees things other people don't, she feels the fear but never lets it stop her. She's a walking contradiction in fact – no prizes for guessing where I got my inspiration.
Happy birthday my darling girl, and thank you for the best seven years of my life so far.
All my love as always,
Mum