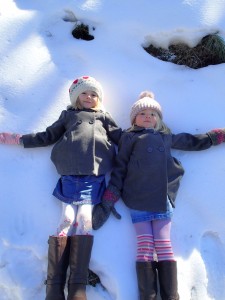 To my girls,
I am writing this on New Years Eve, the last day of the year you turned six and five, because I didn't get time to write your annual birthday letters.  Our life, at this point, is rather like that.  Things that don't have definite deadlines get pushed back and back, at the expense of all the things that need to happen, can't be delayed – school and work, homework, playdates, cleaning out and feeding the guinea pigs, housework, all that good stuff.
But now it is the holidays and this is our time.  This is the time I get to spend with you, the time I spend suddenly realising how much I miss you during all the weeks and months we spend being apart for most of our waking hours.
And this Monday started out as a really good one.  This would be the first time you saw snow.  You were each going to have your very own Let It Go moments.  We were going to build a snowman.  It was all so perfect.
Until it wasn't.
I'm sorry our perfect day had to end up the way it did, but even us parents make horrible mistakes sometimes, and maybe yours make more than the average.  But look, let's just begin at the beginning and you can make your own minds up on it, OK?  Because hopefully reading this in the far future, you don't even remember this.  I fear you probably do, but let's just hope you don't.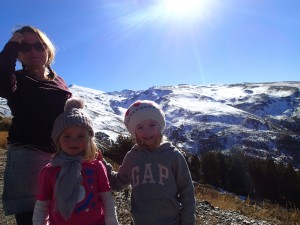 Morning.  Driving up to Sierra Blanca.  Snow on the mountains, plenty of good patches of it visible through the roadside trees, so we pull over and get involved.  Having been raised in warmth and sun you are both a little perturbed by the feeling of cold lips, cold noses, numb hands, and more than a little unsettled by the sensation of sliding around on ice.  And it's important to note that it is really fricking cold.  Really cold and the snow is really icy.  So icy that we can't actually make a snowman at all, despite best efforts, and end up with a loose pile of ice that you both gamely decide is a snow dog.  So after a bit of playing about we end up back at the car, at your request, since you've had enough of being cold and are angling for a side trip to locate some hot chocolate and churros.
We head into the actual ski resort and find somewhere to park so we can go for a mooch.  Heading down a path that hairpins down from the top of town we soon find ourselves in gorgeous, sun-bathed snow, gazing down across the pistes.  Then a few things happen:
We spot a cafe, diagonally down the slope from us, that we see as a contender for having churros.
A family struggle up the path and let go of their toboggan, only to see it go skidding off and seemingly plummet over a precipice.  Dad laughs at this and says "Well that ain't coming back," and both he and I fail to recognise a hideous portent for what is about to unfold.
While heading down the path to the cafe, holding your (C's) hand, Dad slips, falls, and skids with all the velocity of the aforementioned toboggan towards the very same edge, shooting off into the void before plummeting to unknown depths, and an uncertain fate.
I know what you're thinking, and at this point I am thinking it too, but I don't have the same benefit of hindsight that you do now, so I really do seriously consider the fact that we have just watched him die.  But these moments are slow, the world slows right down, so I find myself deciding that I don't have time to think about that now.  Instead I need to think about you two.  C, since you were holding your dad's hand you are now sliding slowly towards the same fate and calling for me so desperately, in such terror, that there is nothing else for it but to dive for you.  Unfortunately, as I try to take the four or five steps towards you, all that happens, immediately, is that I start slipping and I am telling you now that I do everything I can to stop myself.  Even as it is happening I still don't believe it.  I drop your hand (N) and dig my fingers in, dig everything in I can in a truly desperate attempt to stay with you, and I am telling you I have never been so scared.  I try so hard to stop myself but the ice is so hard, so frozen, it is basically the perfect storm for this scenario.  Snow, sun, a melted and refrozen surface – there is basically no chance.  But because I am begging people to help me in these few split seconds, and they have just seen your Dad disappear, this one Spanish couple nearby do all they can.  He heads for you, C, and the woman actually lies on her front and tries to catch hold of me but we miss each other.  He then starts telling me that it's OK, that he doesn't think (!) there is a cliff where I am headed and as I go, as I fall towards the edge, it is of some comfort to me.
There is no real need for me to tell you how it feels to fall, to fall down seventy metres of sheer ice slope, away from you, never knowing if at any moment I will find myself airborne and falling onto rocks.  Just know that it is scary; it is one of the scariest experiences I have ever had, but all I can think about is you, that I have left you alone, and that you have just seen your two parents fall to their possible deaths.  I seem to get faster and faster, speeding up and rocketing down, desperately trying to slam on the brakes but all the time failing.  Finally, finally, after what seems like an eternity, I am realising I have stopped and I am realising that I am alive, and the first thing I hear is your dad saying:
"Kate, is that you?"
And it is so amazing that he is alive, that we are both alive that I can barely even answer before he says:
"We need to get back to the girls," and he is gone, terminator-style, powering through the snow and ice along the bottom of the slope until he can get to the road that will bring him back to you and I watch him go, amazed at how fast he can move when I can barely make progress at all, alternately sinking through the ice crust and skidding further down, feeling this horrific burning in my hands that I put down to the cold, and all the time staring up desperately, fearfully, at the brow of the hill in abject terror that I will see one of you follow us.  It is only later that I will realise that I have ripped every one of my fingernails up out of their beds in an attempt to stop myself falling and that I am bleeding all over my clothes as I struggle down to the road that will lead me to you.
I see Dad get to you in record time, and that soothes me, especially with the way, from my angle, he seems to stand shrugging as he talks to onlookers, casually running a hand through his hair.  Only later will I learn that he arrived to find you pinned to the slope by sticks and the arms of kind strangers.  Only later will I learn that he had to rescue both you and the couple that had kept you safe from the irresistible physics of this particular place and time.
But in any case within a few minutes you are coming to me (along the road) and I come to you, and I am holding you and you are crying and I am trying not to and after a while we realise that I no longer have my handbag.  Among the items in it: iPad, SatNav, iPod, mobile phone, purse, keys etc.  Yes, circumstance had conspired to make this the most ridiculous time to scatter the contents of my bag across the side of a mountain (not that there's a good time to do that really).  So without a complaint your dad sets out to see what he can retrieve while we continue our shell-shocked trudge back to the car.  And all the way back all I do is tell you how sorry I am and all you do is cry.  And it is only once we're nearly back that you start noticing the blood on my hoody and skirt, the blood dripping off my fingers, and this is why it is you two who open the car, you two who help me pull off my freezing snow-soaked jumper, you two who push the keys into the ignition so we can start the heat that might stop our shaking.
Your dad gets back, having found everything, and it seems like we may actually have got away with this, in more ways than we could have hoped. The only thing is that, having only just got his phone, he had forgotten about its existence and neglected to look for it, and so ends up having to head back down again, and repeat the whole process of finding a stick and moutaineering around the slope to search it out.  I still don't know how he did that, but then your dad is able to do a lot of things that seem unfathomable to me.  What's really nuts is that while he is doing this, two more guys come flying off the mountain just as we did, tumbling right past him.
He finds the phone, and finally we are all together in the car.  How Dad drives for the two and half hours it takes to get home – again, no idea, especially when he had taken the far more hairy route down the precipice of tumbling end to end, head over heels, earning himself an impressive array of ice burns and cuts and a bleeding nose.  Anyway on the way home, despite shakes and pain and stops to buy plasters and painkillers and me unable to do anything but quiver with my bloody stumps resting on my knees, Dad and I keep breaking out into fits of uncontrollable laughter.  And maybe it's shock, but man, it seems funny.  It's just so random, so mad, and now that all is well it seems OK to laugh.
You don't think it's funny though.  You sit in the back looking baffled while we laugh about it.  And you're right, because actually it isn't funny at all.  It's horrible.  It is dizzyingly vertiginously appallingly terrifying, and believe me when I tell you that I know that.  I lived it.  And I feel so bad about what we must have put you through.  I know how it felt to see Dad go flying over the edge, and you had to do that and then watch me do it too.  I know that for several (maybe ten) minutes you thought you had lost both your parents and for the first time in your lives you were alone, so alone, more alone than ever, more alone than I ever want you to be.
This definitely makes me question my ability to assess risk.  I know I can't let this happen again.  I just can't risk leaving you, or losing you.  Dad and I keep reminding ourselves how much worse it could have been, if it had been one or both of you who had fallen.  We know we couldn't have watched either of you go over that edge without diving off after you.  We know the sound of your terrified screaming as you fell would have been a sound we could never have forgotten.
I wish I could turn back time and make it so it never happened.  I wish your first snow day, which was supposed to be so magical, hadn't been ruined.  I wish I was more effective in a crisis and hadn't just lunged across the slope unthinkingly.  I wish I wasn't jolting awake during the night reliving it.  I wish I wasn't listening to your copious sleep-talking and knowing how much this experience has stressed you.  Maybe I wish Dad and I were different people, because this kind of thing seems to happen to us more than it does to most.
I just hope in the years to come when you remember this day (and you probably will!) that you think of it and smile.  These things do seem to happen to us I know, but I guess it's because we want adventures for you, we want you to be as excited about the world as we are, we want you to get out there and explore and experience and never be afraid to find out what's around the corner.  But I promise I will be wiser next time, I won't forget the importance of suitable footwear in the snow, I won't underestimate the power of ice on our next venture into the mountains, which will be soon.
So to you, my girls, on the last day of the year you turned six and five, I want you to know how brave you are, how you went through something so horrible and are already able to laugh and make jokes about it, and how happy I am that you take all life has to offer, both good and bad, in your stride.  And if we learn anything from what happened let it be this – everything can change in a heartbeat, so it's important to make every moment count.  Luckily, living with you, that isn't hard to do.
Thanks for another year of moments that count, my darling girls,
All my love, as ever,
Mummy