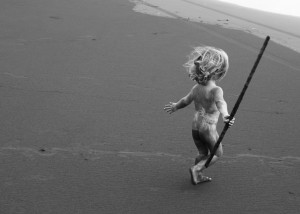 Dear Costa Rica,
I wasn't nervous at all when we left England for lands unknown in Africa. I suppose that seems really weird. But back then I was twenty-nine, just married, looking for new adventures and just so ready to take the world on.
Things changed once I became a mother, and this was the reason why when it came to leaving Africa to come here to you, I was only ever totally focused on finding a safer place for my family. I was ready to leave behind the difficulties of living there, the omnipresent threat of malaria (and the memories of having had it), and the sacrifice of losing the friends and the home that I had made there seemed one worth making.
Nothing could have prepared me for the happiness I found in you, our next home, for how perfect you were, for how eerily well things clicked into place, so much so that sometimes I wondered if you were just a dream. So much so that I named my second child for the heavenly peace I had found in you. And this is why now, on the verge of leaving you behind, I know that this move isn't going to be like the others. This time it's going to be really, really hard.
Don't get me wrong, this time as before, I know this is the right move for my family. We're heading for Spain which, on paper anyway, couldn't be a more perfect destination. It's warm and sunny, quality of life is high, we already speak the language, we have jobs and free school places and (here's the kicker) we'll be just a short, cheap flight from the friends and family we've neglected for six years. And I do firmly believe that we'll be happy there. None of this is in doubt. It's simply that I have fallen deeply and irrevocably under your spell. Under the spell of my laid-back life here, under the spell of my network of wonderful friends, under the spell of your staggering natural beauty, under the spell of your sweet, reserved people.
When visitors first come to you, I don't know, but I think maybe all they see is potholes, big iron gates and barbed wire. Your capital certainly doesn't have the kerb appeal of some. I guess you have to live here to really know your heart. To know the way the weather is so often just that perfect sunny, breezy summers day; to know the way the mountains can suddenly loom out of passing cloud; to know the way the chattering parrots at sunset can lift the spirits on a simple walk to the corner shop; to know the way it simultaneously drives you mad and soothes your soul that strangers in the street tell you how to manage your children.
We found a home in you. We love our cool, light-filled little house and its sweet quiet neighbours that bring the girls presents when they return from travels. We love driving to the beach on a Saturday to soak away the cares of the week in the blood-warm pacific. We love your hearty breakfasts. We love that you've led us to some true and lifelong friends. We love that you gave us the time and space to really know our children while they still want to be with us.
And now we have to throw it all up in the air and start again. Again. And to be honest sometimes I don't know if I can do it. When I first found out about Spain I was over the moon – I had a great new job, my parents were thrilled by our upcoming proximity and we were being given free education for the kids. Plus we would be back in Europe – the land of culture and old buildings and cheese and camping and cycle paths and lots of other (on reflection pretty silly) little things that you have never been able to offer us. But since the first flush of joy subsided I've realized I'm struggling with this. I'm finding the thought of leaving you really tough. We've still got almost three months together and already I'm losing sleep, already I'm worrying, already I'm missing you.
There's been times over the last four years when I've wondered if you would be our forever home – the unexpected, inconvenient, wonderful place that we ended up staying in for good. Life is like that – always full of surprises and paths that take you in different directions – you taught me that. And I think we could have been happy together, you and I; I think we could have made a beautiful life. But then Spain came along and was just too good to ignore. I'm sorry I let another place turn my head when what you and I had was so special. And I may well live to regret it, but I guess that's just a risk I'm going to have to take.
You gave me so much, so many precious gifts, but none so precious as the one which you may one day claim back. My Cielo is your national through and through and always will be, and I know that you will call her home one day, even if just for a short time. I allow myself little daydreams of her spending a summer here, falling in love with you just the way I did, maybe even staying long enough to mean that I visit her, that I get to come back to you.
And so here we are getting ready to say our goodbyes. And when the dreaded day comes when I must leave I will be strong, I will be brave and I will try not to cry. And as my feet leave your ground just know that I love you, that I always will, that I never loved anywhere the way I love you and I doubt I ever will. Just know that you healed me, that you made me feel safe, that you made me believe that anything was possible, and that no matter where I go or what I do, a part of my heart will always be here, with you.
For everything you gave me, mi pais, muchisima gracias. And I hope that this won't be adios, but merely hasta luego. Let's make sure these last months are just as memorable and joyful and perfect as all of those that have gone before.
With all my love
Kate